August 12, 2016
Badminton Is a Serious Sport, People
I quite enjoyed taking two university PE classes in badminton. Americans know it from messing about in backyards, but there's a reason it's a serious Olympic sport.
Anyway, here's a video from my favorite TV show. I especially liked the QA testing at the end.
Posted by: Boviate at 08:40 AM | No Comments | Add Comment
Post contains 51 words, total size 1 kb.
April 01, 2010
Haste Is Waste
I finally got around to uploading my holiday photos to flickr.
To be clear, I'm referring to Christmas of 2008. One shouldn't rush these things.
Posted by: Boviate at 01:11 AM | No Comments | Add Comment
Post contains 28 words, total size 1 kb.
October 20, 2008
All the Pretty Colors
I put up a batch of fall foilage photos on Flickr. The set is
here
, or you can watch it as a
slideshow
.
Posted by: Boviate at 09:45 PM | No Comments | Add Comment
Post contains 27 words, total size 1 kb.
October 17, 2008
Dead Soldiers
When we finished working on my Mom's attic wiring, I had to take a couple of photos, for posterity's sake. Or my posterior's sake. I get the two confused on occasion.
The old scary wiring: (Full size)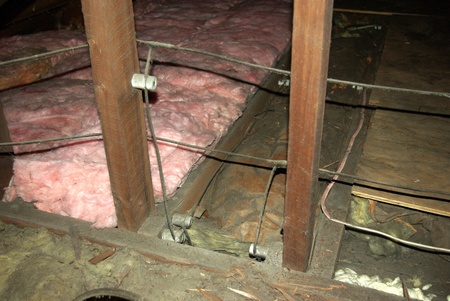 Stack of removed ceramic knobs: (Full size)
As I was writing this post, I realized that I didn't have any photos of the new wiring we put in. But I think we did high-quality work, so there's not much to see; just wires clipped along beams, meeting politely inside junction boxes. As opposed to the knob and tube spliced every which way.
Posted by: Boviate at 09:43 AM | No Comments | Add Comment
Post contains 101 words, total size 1 kb.
April 13, 2008
Honda, I Choose You!
People have been asking to see my car for a while now. Here it is!
The driver's side has no interesting stripes. The artwork was added two owners ago, by the Airframes shop.
After taking the car shots I took a photo walk, the results of which I'll post later. Spoiler: I felt humbled, as my skills were unworthy of the subject. Humility is not something I experience often, as those who know me will attest.
Posted by: Boviate at 03:00 AM | No Comments | Add Comment
Post contains 80 words, total size 1 kb.
March 29, 2008
That's Frighteningly Fast
I was just uploading some photos to my flickr account. Someone posted a comment exactly seven seconds after I uploaded this image. I'm a little scared now.
Posted by: Boviate at 10:16 AM | No Comments | Add Comment
Post contains 30 words, total size 1 kb.
January 17, 2008
Decapod Visitor
Every morning we conduct a FOD walk down on the parking ramp where our aircraft stay. That is, all hands line up at double-arm interval, and together we walk, staring at the pavement, picking up anything that might get kicked up by rotor wash.
The pavement is concrete using the local bedrock for aggregate, that rock being limestone formed from coral. It's light-colored and speckled. Pavement is laid out in ten foot squares, each square bordered by expansion joints. In the center of every square is a "pad eye", a hole exactly six inches across and four inches deep cast into the concrete. Across the hole is a steel arch an inch think, used to tie down aircraft (or anything else that looks like it ought to be tied down). They also serve as grounding points.
We're in the rainy season here in Okinawa, so typically every pad eye is full of water. Dirt and organic debris accumulate in the bottoms. Marines that have earned punishment are sometimes sent out to clean pad eyes with a plastic spoon.
During today's FOD walk, we noticed a visitor in one of the pad eyes.
It was a terrestrial crab, that presumably hiked 200 yards from the tree line, 30 yards along the flightline, then decided to zip into some sheltering water when big predatory-looking mammals started milling about. (Or maybe he was just nocturnal, and looking for a hangout during the day.) We tried to remove him, but he slipped beneath the steel loop and grabbed the concrete with half of his limbs- the other ones wouldn't fit inside. That's why we wanted to move him: poking out like he was, the poor guy was in danger of getting squished by rolling aircraft or ground support equipment. Still, he was not inclined to move.
I took several images in the cloudy early morning, which was a problematic photographic environment. Seeking better light, I came back at noon. The pad eye was empty... did someone remove the crab? Or did he get up and leave on his own?
Full size image is here. At first I thought the photos were all out of focus or excessivly noisy, then I realized that the carapace had speckled camouflage. This particular image was taken with flash, although that washed out the interesting water coloring.
Posted by: Boviate at 08:06 AM | Comments (1) | Add Comment
Post contains 389 words, total size 2 kb.
November 26, 2007
Armor Art
There's a particular armor panel on the right side of a CH-46 that is often painted. It's a way for us to show some unit pride and express our creative urges. Anyway, please enjoy the following photos. I had to squeeze the hell out of them with the Gnu Image Manipulation Program, so they're kind of grainy. Sorry about that, but we're limited on bandwidth here. If you're wondering about the scale, these panels are about two feet wide.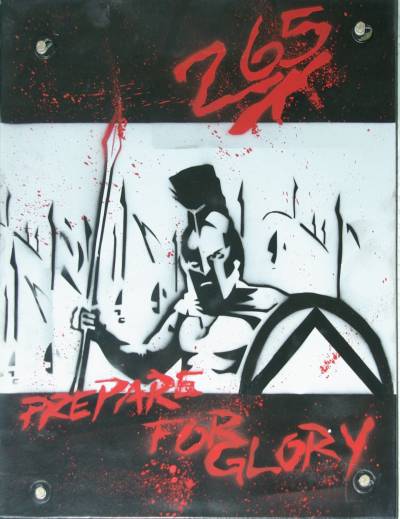 Posted by: Boviate at 05:16 AM | No Comments | Add Comment
Post contains 77 words, total size 1 kb.
July 20, 2007
Album
I finally finished uploading photos… the ones I took before the last float happened. Now I've got to go through the 779 photos I took during the last float, and upload the worthy ones, categorize, tag, and write descriptions.
So standby for a new slideshow to be announced in a few weeks.
Posted by: Boviate at 06:22 AM | No Comments | Add Comment
Post contains 53 words, total size 1 kb.
July 03, 2007
Night Photography on the Flight Deck
One of the reasons I got my Pentax K10D was to take night photos. The larger image sensor creates much less noise on long exposures than the little sensors in pocket cameras.
This first one was taken on a rainy, pitch black night. I illuminated my subjects with the blue flashlight I use to work up there. The color is an accurate representation of what it's like to work in monochrome.
This other one was taken a few days later, using moonlight. The color surprised me, as we're used to seeing only in shades of gray at night. But the camera's sensor doesn't have seperate rod and cone cells, of course. I pondered converting it to black and white to make it seem more "natural", but I think it's better as is. I took several others that night that came out nicely too. They're all sort of desaturated and sourceless. They looked to me like old negatives from WW2, faded with age.
I'm sad at how much I had to compress them to upload them with the boat's limited internet connectivity. The originals are crisp and clear. When I get my photos uploaded to flickr, check them out again.
Posted by: Boviate at 05:45 PM | Comments (2) | Add Comment
Post contains 203 words, total size 1 kb.
23kb generated in CPU 0.03, elapsed 0.0855 seconds.
40 queries taking 0.0622 seconds, 99 records returned.
Powered by Minx 1.1.6c-pink.